ADVANCED MANUFACTURING OVERVIEW
Manufacturing is the foundation of Indiana's economy. And it's an industry poised for growth even in today's challenging economic environment. Today's manufacturing industry isn't dominated by assembly line workers and forklift operators. Manufacturing is high-tech. It's driven by innovation. It's high-paying and cutting-edge. And, in Indiana, it employs one of every five Hoosiers and makes up one-third of the state's economy.
The long-term view of the manufacturing industry remains optimistic despite recent economic challenges. Overall, the manufacturing and logistics industries are very healthy. In the 2012 Manufacuting and Logistics Report Card, Indiana scored a A in both Manufacturing and Logistics Industry Health. To see the full report of how Indiana scored in all cateogires, CLICK HERE.
Conexus Indiana is committed to building partnerships and enhancing public awareness of this industry, which will help Indiana manufacturing companies continue to grow. The initiative will identify emerging markets, such as opportunities for business partnerships and contracts with the U.S. Department of Defense and NASA, potential business start-ups and strategic alliances, as well as link manufacturers to in-state suppliers to streamline supply chains and spur investment in Indiana.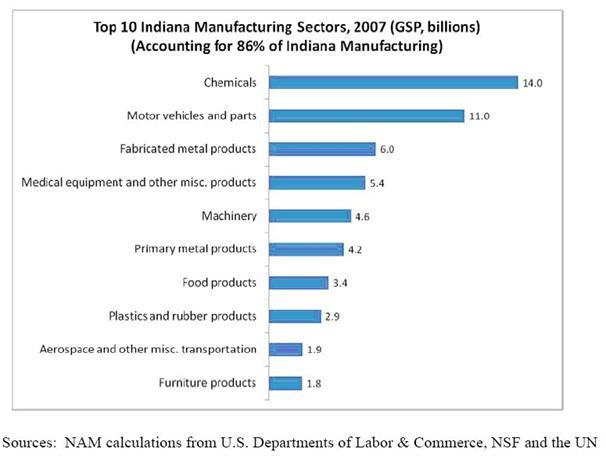 Did you know?
If the U.S. manufacturing industry was a country by itself, it would have the 8th largest economy in the world.
The United States manufacturing industry represents 21 percent of the manufactured products in the world making the U.S. the world's largest manufacturing economy.
In 2007 the United States manufacturing industry contributed $1.6 trillion to the national economy or 11 percent of U.S. GDP.
While the United States is the world's largest manufacturing economy, Japan is second with 13 percent and China is third with 12 percent.
Manufacturing represents 25 percent of Indiana's economy and 97 percent of Indiana's exports.
Manufacturing contributes $64 billion to Indiana's economy each year (making Indiana 7th in the country in terms of manufacturing's contribution to state economy).
From 2003 to 2008 Indiana's manufacturing exports nearly doubled from $16 billion to $31 billion.
As of 2010 there were 8,722 manufacturing establishments in Indiana.